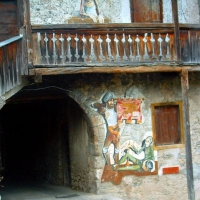 This tour has been designed to provide visitors the opportunity to enjoy breath-taking views of the most stupendous mountain, lake and valley scenery of the Dolomites around Cortina.
During the day we make numerous stops at scenic viewpoints, walk around lakes and visit many important villages. The first stop is in Cibiana di Cadore, 20km from Cortina d'Ampezzo. Cibina has become famous all over the world thanks to its Murals. Since 1980 well known international painters were commissioned to create more than 50 mural works. They volunteered their artistry as well as their physical fatigue for the glory of the community of Cibiana.
In Pieve di Cadore there's the possibility to visit the home town of the famous Renaissance painter Titian. We will visit Lake Auronzo and Lake Misurina, the largest natural lake of the Cadore and then enjoy a walk on a level terrain up in the Tre Cime di Lavaredo, from where you can enjoy a splendid view over these majestic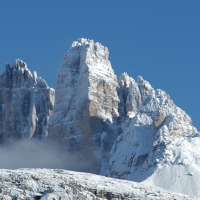 mountain range. At the Tre Cime di Lavaredo, at an altitude of 2,360m (7,500 ft), you'll enjoy one of the best views of the mountains, where you can gaze out across a myriad of peaks and valleys as far as the eye can see. Here you can enjoy an optional short walk along an easy trail beneath the towering peaks to admire neighbouring peaks of the Sesto region.
And after a fulfilling day spent in the Dolomites, sit back and relax as we return back to Cortina d'Ampezzo.